Since the beginning of the 1980s,the changes within the Chinese contemporary art world have been astonishing indeed. The relaxation of official cultural policies concerning what artists can and cannot do has resulted in an explosion of making art in every conceivable form,from the simple figurative to the most experimental abstraction to powerful installation, video, and performance art.Amidst all the changes and the rush to secure reputations on the international art stage it seemed, at times, that traditional ink painting, and all that it has stood for in China's long cultural history,would forever be swept aside.This,however,has not been the case.
While Chinese artists working with Western media and forms have radically altered cultural norms,traditional ink painting,too,underwent extraordinary changes throughout the 20th century in the face of political and social transitions. Indeed, many prominent intellectuals in the early 20th century, including Chen Duxiu,Hu Shi,and Cai Yuanpei,were highly critical of literati painting since they viewed it as having little relevance to reality. But ink painting is not one single staid and stagnant form with no place in contemporary life as many people might believe. The form includes guohua ( national painting), literati painting, new literati painting, conceptual ink painting, and many other variations. Throughout history it has been used for a wide variety of purposes, from the glorification of imperial figures to the portrayal of China's socialist vision after 1949. Today, however, one is just as likely to see ink painting in a museum exhibition as one is to see it in an avant-garde installation work, such is its new influence with the contemporary art world.
In recent years, the level of experimentation among China's male and female ink painters has been lively indeed resulting in a range of work equals in power and sophistication to that produced by artists working in Western media. This can be seen in the works of the ink painters from across China such as Wei Qingji,Tian Chuchang, Pan Ying, Liu Zijian,Wang Fei,and Sun Guangyi,who,from the late 1990s,have developed styles of realism and abstraction that are forceful and modern.Such artists and their painting,and the various new movements of ink painters, have helped greatly to further the discourse on modernity versus the traditional in China's fluid contemporary art world. Their views have not only been confined to China,but have also been influential in the broader arena of ink painting wherever it is practiced.
Sun Guangyi, 38, is an artist who has given himself over fully to the art of ink painting in a manner that encapsulates his practice of Tibetan Buddhism.Sun's earlier energetic oil and acrylic paintings, such as Meili Snow Mountain 5 and 8 (both 2004), highlighted Sun's attraction to the natural world, one of majesty and power.In his ink-on-paper works,Delight of Heaven 2, 3, and 6, and Passion(2003),for example,one is aware of Sun's desire to experiment with the abstract forms to be found in nature.The works that make up his recent series. Blessings-Voyage to Shangri-La(2005), however, are more inward looking.They are also much more contemplative and minimalist than ever before. They are ,in essence,a continuation of his earlier series Fragments of Culture(2001) that depicts "oracle and ancient Chinese symbols...an interpretation and reflection of Chinese traditional culture."The connections between one series and another may seem tenuous to some people. Far from being tenuous the connections reflect.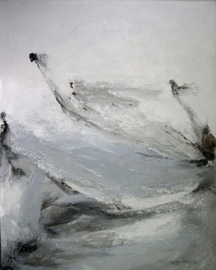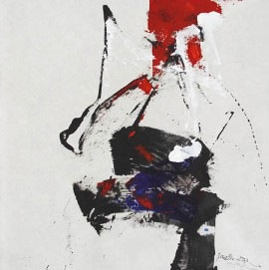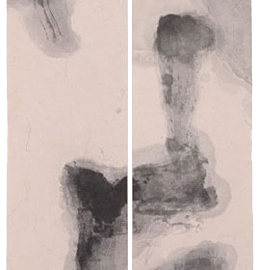 <Meili snow mountain>5 <Passion> <Delight of Heaven 2>
Sun's growing understanding of the relationship between the earthly world in which he is rooted and the spiritual world which he seeks within himself through his pratice of Tibetan Buddhism.
A first glance at Sun's new works reminds one of wall paintings found in ancient Buddhist temples.Or one might see them as fragments of much larger works since Sun,by painting to the very edge suggest some world beyond the edges of the paper. Untitled 13 and Untitled 15, both pieced in which the faint face appears to be moving towards the edge of the paper,are good examples of this suggestion of a world beyond.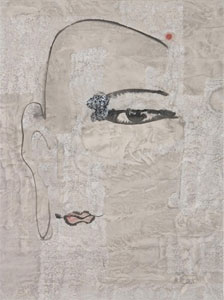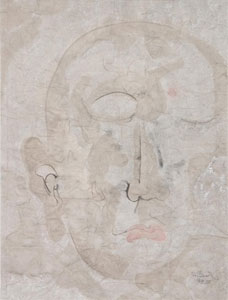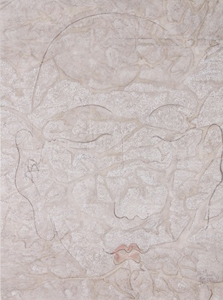 <Untitle16> <Untitle13> <Untitle4>
Although the immediate impression of the works surfaces is one of a minimal application of light gray wash that suggests complete flatness,a closer look reveals that Sun has worked a great deal of detail into the surfaces.Lines twist and turn forming surprising images, and the unevenness of the gray background suggests that the surfaces on which the faces of the Buddha appear are crumbling. This feeling is particularly strong in Untitled 4 and Untitled 16.
The simplicity of Sun's line through which he achieves a fine sense of volume and depth to the faces of the Buddha is one of the most attractive aspects of the works in this series.Another is his subtle use of color on the lips and the faces, which adds both a subtle perspective and a humanizing aspect to the ethereal nature of the Buddha. In Untitled 2 the one-eyed head is tilted, the features though soft suggest a certain sternness,which is also true of the faces in Untitled 5 and Untitled 7.
The character of the Buddha that Sun has realized in his works comes across not as some ephemeral being but as one that is surprisingly human.This has been achieved by Sun through a subtle hint of humor.He is in essence telling us that the spiritual world that he is looking at as represented by his faces of the Buddha is also a human one. Spirituality and humanity are uniquely brought together in these works and this relationship is refreshing indeed.
It is no accident that Sun has chosen not to title his paintings in this series. To have given each work a specific title would have removed from the viewer the challenge of fully interpreting the work on their own.The series title itself speaks volumes about the artist's own feelings.
Ian Findlay-Brown
Editor/Publisher Asian Art News